TEEN CELLPHONE PORN: Have cellphones (specifically smartphones) made porn access an everyday thing for teens?
by Sofia Tosolari
I was a young, liberal teacher at a local Cape Town high school. When the children saw I was 22, new and a little naïve, they took it upon themselves to get my attention. The result: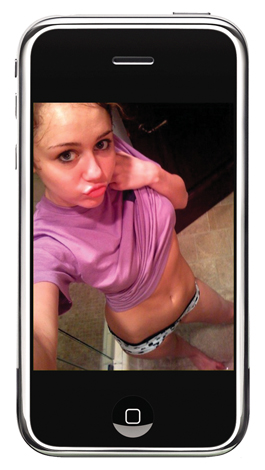 they began exposing me to the intricacies of their little worlds: to cellphone porn, fist fights and parental abuse.
I was soon given access to one favourite Grade 10's world of secrets, which left me one day staring at a pornographic image on his cellphone.
My teaching career ended soon after that. Having lost contact with the boy in question, I decided to interview another connection – a young man in Grade 12. The topic: cellphone porn in local Cape Town high schools. Although he did not mind being identified, we'll refer to him simply as Ian.
"They call me the sexpert because I know a lot about sex and stuff, I always found it interesting," he says.
So, I wondered, where do children get the cellphone porn?
"You can get it anywhere, and it's free." He names a website. "You can download scenes or the whole movie."
Professional imagery? Who makes teen cellphone porn?
"Nope, most of this is in fact simply home-made. Like with the Grade 8s and 9s, there are children making their own videos and showing them around," says Ian.
Motives? Why keep teen cellphone porn?
"I dunno, it's a status thing. It's the same with your virginity, and if you haven't lost it by Grade 10, there's something wrong with you," says Ian.
I shouldn't be surprised, yet sadly I am…
So while porn has always been around for teenagers to gawk at, it now seems that much easier with the introduction of cellphones, with stories including rainbow parties, where teens gather for an orgy to be filmed on a cellphone.
Sharon Paulus, a social worker at the Parent Centre in Cape Town, confirms this:
"Technology has simply highlighted the seriousness of the problem and taken it to a new level," she says. "Today, teens make their own blue movies, and with more children having access to cellphones and the Internet, the problem of cellphone porn could be on the increase."
So there's clearly a problem. What to do? According to Paulus, "Parents need to listen, to acknowledge their teen's feelings without blaming or shaming them."
On a very practical level: "Parents should have rules guiding the use of cellphones and the consequences if these are broken," she says.
Paulus says that parents need to consider why their child needs a cellphone in the first place; and, if they do, does it need to have a camera, Bluetooth and Internet access?
"Adolescents who are engaging in this kind of activity are really crying out for help," says Paulus. "They are letting people know through their behaviour that they lack something in their lives. Love and a sense of belonging are very important for children and are two of their basic human needs. If these are not met in the family the child will go looking for it elsewhere, such as in gangs, cults, substance abuse, sex or relationships."
"Adolescents want excitement, seek peer acceptance, and try to find ways to show that they are superior to others. Teens also want to experiment and in the case of teen cellphone porn, it sounds as if there is a need to experiment in a real way and to have the visual proof," says Paulus.
Do you think cellphone porn is a real issue? Is it a cry for help or normal teen rebellion? Please share your thoughts or comments below.
— Parent 24.com
Related post: Farcical Extremes
News article: Teen girls' cell-phone invitations bare all